Mailing Services - Customised To You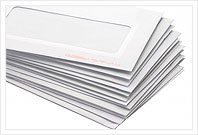 No mailing programme is too small, we can help you target markets to maximise your returns.
We can issue the cards straight to you or to your individual customers on variable data printed carriers and matched with appropriate envelope sizes. Arranging mail outs, launches, brochures, booklets, cds and any other promotional merchandise, and where quantities are sufficient, sorting to gain reduction in postal charges. Shrink wrapping for magazines and individual cards can also be arranged along with appropriate sized envelopes
We can keep a record of your data and personalisation on the card in order to manage and monitor this database system for you. The Data Protection Policy, to which Custom Card-IBS apply, states that this is seen only by those of our employees who have to deal with the information to produce embossed cards, printed letters, attaching cards to letters and mailing. Custom Card-IBS complies fully with the Data Protection Act 1998 and is registered under the number Z 7741914.
All artwork is held in reserve for any further provisions or repeat orders you may have, to consistently ensure that your work is minimised.
Database Services
From initial planning and design through to database build, maintenance and analysis. We offer the entire spectrum of database services; it is flexible and efficient. We work with you on a one to one basis developing and tailoring your database to cope with your changing needs.